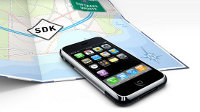 El próximo 10 de Abril impartiremos un nuevo curso "iPhone and Networking", este curso estará impartido por Geppy Parziale (Experto desarrollador iPhone) de Invasive Code y yo mismo.
La principal novedad de este curso es que las empresas tendrán la posibilidad de bonificarse parte, o la totalidad del curso.
Os dejo aquí el contenido del curso que también esta en la web de Invasive Code:
During this lab, the participants are guided to build a complex iPhone application to realize a geo-localized chat among different users connected to a central server. The central server will be also developed in JAVA during the class. The topics covered by this labs are: an overview of UIKit, Core Location, and the Socket programming on the iPhone. Moreover, the Socket programming will be also covered on the server in JAVA.
This lab is addressed to iPhone developers and JAVA developers. Companies can benefit an interesting discount.

Este curso esta destinado a desarrolladores iPhone y Java. Durante el curso se construirá una aplicación compleja en iPhone, un Chat geo-localizado entre distintos usuarios conectados todos a un servidor central desarrollado en Java.
Fecha: 10 de Abril de 2010
Lugar: Parc Científic i Tecnològic de Girona
Inscripciones: Consulta de precios e inscripciones enviar un mail a acoronadoc at gmail dot com