Acabamos de liberar la primera versión del portlet 'Lists'. Este portlet nos permite gestionar listas desde Liferay, podemos crear tantas listas como queramos(Tareas, Regalos para hacer, Gente a la que contactar, etc.). Pego aquí la descripción que he colgado en el repositorio de Liferay:
Lists is a simple portlet for lists manage. You can create as many lists as you need (Tasks, presents, buys, travels). You can use for organize yourself or with your team. For at the moment, 'Lists' is translated to English, Spanish and Catalan and supports: List and item manage, weight assign, status assign and permission manage. We want release a new version soon with new functionalities, like have collaborative lists, order by different columns, drag&drop, etc. Please, your comments about application will be welcome.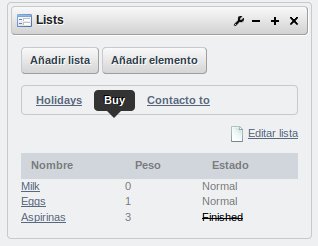 Esperamos poder sacar versiones nuevas del portlet pronto con nuevas funcionalidades, por ejemplo, hacer social la gestión de listas o poder ordenar los elementos por diferentes columnas.
El portlet se puede descargar desde la página de liferay desde este enlace http://www.liferay.com/es/downloads/liferay-portal/community-plugins/-/software_catalog/products/7763918.
Me hace especial ilusión poder aportar algo a la comunidad Liferay y espero que sea de mucha utilidad.
Nos vendrán muy bien todo tipo de comentarios para poder hacer cada día mejor este portlet, muchas gracias por adelantado.
Comments
28 Responses to "Liberado Portlet 'Lists' para Liferay"