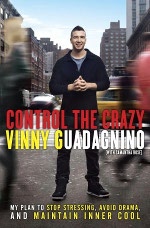 Vinny Guadagnino give us a compilation of tools for control stress, avoid drama and maintain inner cool. He knows about that, because he lived this problems in her own live. Vinny Guadagnino is not a psychologist or a professional(He's known by the MTV's reality 'Jersey Shore'). He writes this book from her own experience, that is something I like.
When I saw this book I had the feeling that It would be interesting, I like try new things. In fact, this book is very advisable for all people who feels stressed, anxious or other bad feelings in her live.
I like read and learn about emotional intelligence, in my opinion, everybody in the school had to learn more about that. Is very important to understant and controls our feelings for pass every day challenges and achieve our goals.
Conclusion, this book is very advisable. I have learned and I had fun reading this book. You can know more about this book in Amazon http://www.amazon.com/Control-Crazy-Stressing-Avoid-Maintain/dp/0307987248